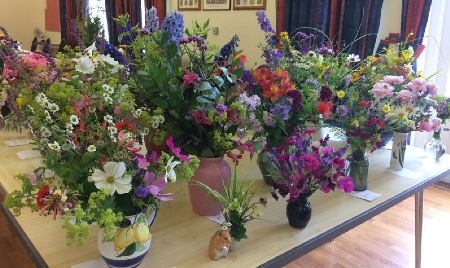 2018 Flower and Produce Show
Winner of the Rose Bowl for most points in show: Catriona Campbell
Best Rose Bloom awarded to Annie Davenport for her prize winning Getrude Jekyll rose.

A talk by Professor John Parker, former Director of the University Botanic Gardens 17 July 7.30pm Sainsbury's Laboratory Auditorium, University Botanic Garden,
'John Henslow and the Education of Charles Darwin'
To book a ticket for the event contact Camsight https://www.camsight.org.uk/Event/john-henslow-and-the-education-of-charles-darwin

We are a friendly club meeting once a month on Thursday evenings in the Village Hall in Bourn at 7.45pm. A list of dates and meetings is on the Meetings page.
Visitors are welcome to come to any meeting for a £1 fee, annual membership is currently £7
Discounts from certain local garden centres are available to members (you will need to show your membership card)


There is a raffle at every meeting, prizes are brought by members each month.


A 'Flower of the Month' competition is held between members who bring a flower from their garden, and the speaker will select a winner from the offerings! See the 'More Photos' page for recent winners. The winner for 2017 was Christine Allison- see the photo of her winning Fuschia for December.